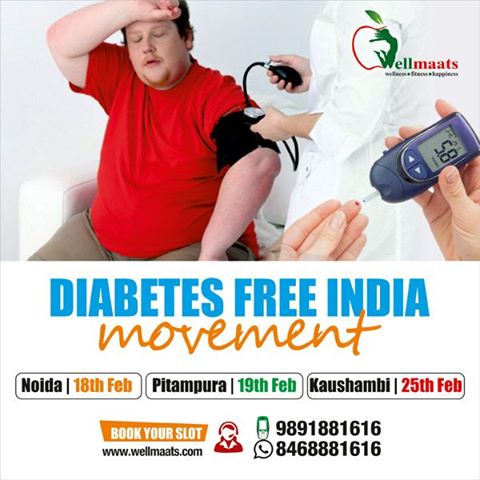 India has becoming Diabetic capital of the world. Almost 70 million people are suffering from diabetes type-2 disorder and 30 million is expected to be added by 2020. Diabetes, Blood Pressure, Hypertension, cholesterol, insomnia, Thyroid or asthma these illnesses occurred due to lifestyle disorder and are also caused by the imbalance of nature and its vital elements "Panchmahabhoot".
Wellmaats is a group of Experienced, Qualified and Market Driven Professionals from several industries having similar visionto prevent illness, heal the sick and preserve life for the upcoming youth and young entrepreneurs. Keeping this in view, Wellmaats Experts are organizing a Diabetes Free India Movement Programme in Delhi, Gurgaon, Faridabad, Noida, Ghaziabad in the month of February and also organisng the similar events in other part of the Nation subsequently, visit our events website events.wellmaats.com. This Diabetes Free India Movement aims at bringing down the growing curve of the diabetes in India.
Renowned Aarogya Acharya Sh.Sudhir Kumar Thakur and his associates help you to improveyour health habits in day-to-day lifestyle through Ayurveda. Ayurvedic medicines are the best medicine to cure any disease in this world as it is made up of natural herbs, seeds, petals and flowers and improve the overall health condition, boost the immunity and stamina of the body.
This event of Diabetes Free India includes: -
Consideration of health condition: Experts will consider your health condition and lifestyle which you will share with us onevents.wellmaats.com.
100% Ayurvedic and Natural Products: As per the individual's health conditions, the experts will give you 100% Ayurvedic and Natural Products to improve the health condition of the body.
Experts Guidance: Sh. Sudhir Kumar Thakur, who is having valuable knowledge of the subjects will guide you to live healthy life.
Question/Answer Session: Asking is the knowing. Many of us suffer because we do not ask questions or never bother to know the facts. Information delivered correctly can minimize one's fear factor and can enhance the immunity to fight against the diseases.
Individual Counseling: We value your privacy and can understand your personal traits. Wellmaats care you and your emotions by respecting your personal information. Individual tele counseling, emails and social app help you a lot.
Although there is nothing free in this world but the entry for this seminar is free for everyone. To take part in this event, individual is requested to update details to Wellmaats Aarogya life.